This Posting is made based on the assumption that you are using Firefox, some steps may be different when using a different browser.
Open up your browser and go to the website http://www.murgaa.com/fast-clicker Once there click on either download button.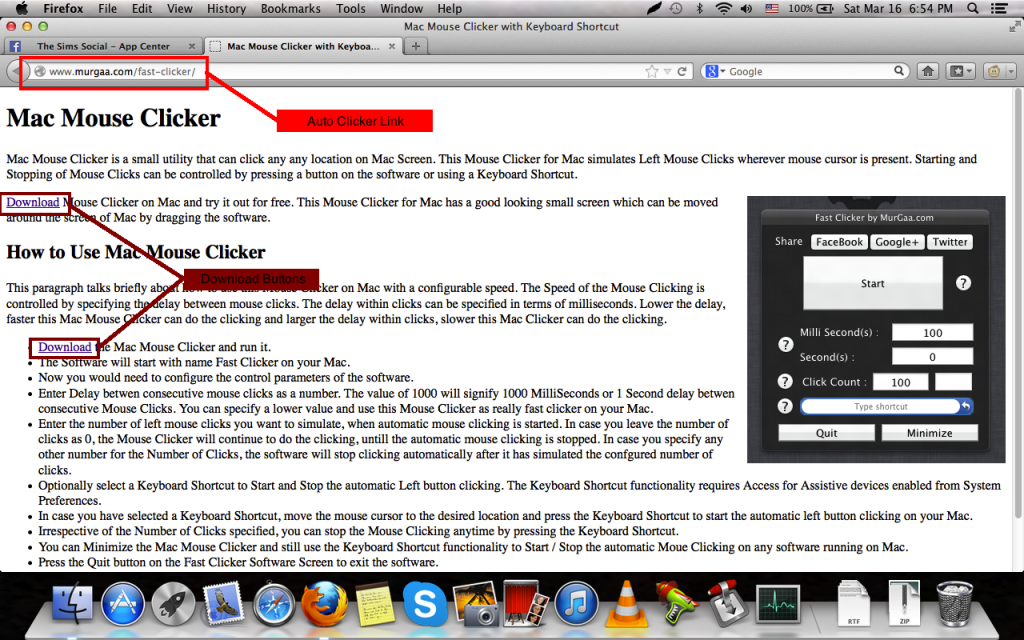 Once the download options box pops up make sure that the "Open With" Circle (the top circle) is ticked off. Then make sure that the scroll down menu next to that is set to "Archive Utility" When your done, press "OK"


As soon as the download is done, click to close the "Downloads" window.
In Finder you should locate and click on the file called "Fast Clicker by MurGaa.com" (it may be already highlighted in blue)
Once the Installation Helper pops up click to continue and agree to install.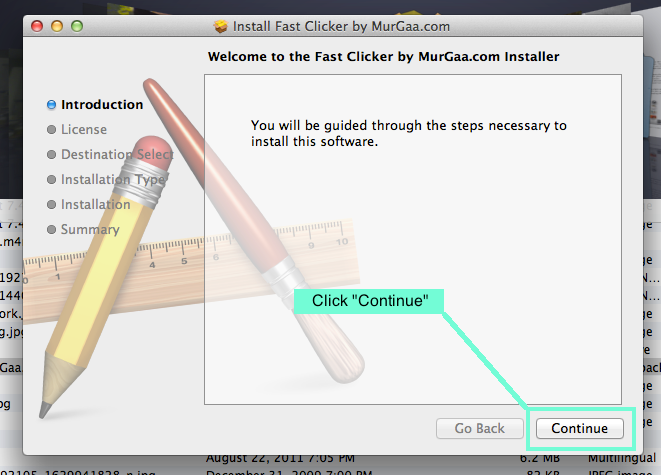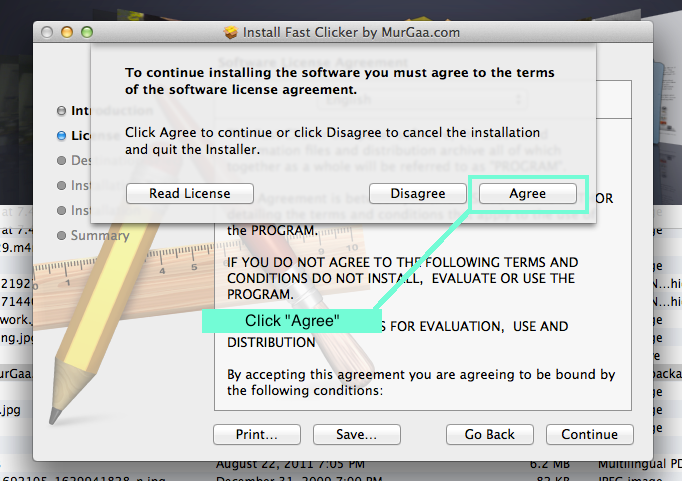 Once the installation is done a tutorial will pop open in your browser and the FCliker app should pop up in the middle of your screen (if it does not, repeat the last 2 steps. it will usually work the second time if not the first) Click to close the tutorial if you'd like because I am doing that here, and then go and click to close the Installation Assistant.
On the right side is the FCliker app's default settings. You can go ahead and use it as it is, but I recommend changing the settings because if it clicks to fast it can sometimes continue clicking even after it's stopped. On the Left side are my recommended settings. Change the Milliseconds to 0, the Seconds to 1 and the Click Count to 0 (changing the click count to 0 allows for infinite clicks). Where it says "Type Shortcut" on the right is where you can set up your Hotkey Shortcut (your hotkey shortcut are the keys on your keyboard that you press to start and stop the auto clicker) You can choose anything you want really, but I use "Command" and "S" as it is not used for anything else already on your Mac and S is for Start and Stop. To Select your Hotkey Shortcut click where it says "Type Shortcut" and then press your desired shortcut keys at the same time. In my case, "Command" and "S"
Click to Minimize the app. This is because it's kind of an annoyance to have it in the middle of your screen and Minimizing it does not change how it's used or if it can be used.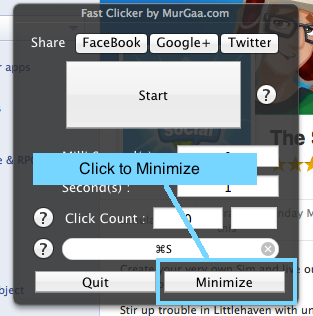 At this point you can go ahead and open Sims Social. YAY!

Once Sims Social has loaded and your Mailbox full of requests has opened move your mouse so that your cursor is on your request accept button. DO NOT click, just leave it there.
Go ahead and Press either of the "Command" keys at the same time as the "S" key on your keyboard ONLY ONCE to start your auto clicker. Give it a minute to start up. Once you're Mailbox requests are all accepted or you'd like to stop accepting them, just Press either of the "Command" keys at the same time as the "S" key again ONLY ONCE. Don't panic if it keeps on clicking for a few seconds more, sometimes it just clicked so many times that it hasn't finished yet. It will stop by itself, DO NOT press your hotkey's again because it will start the auto clicker again.
Here is a video of the whole thing just in case it's easier for you to follow that way.
I hope you enjoy your auto clicker for Mac! (I also hope my tutorial was easy to follow and not to confusing.)